2018 Mr. Jean-Jacques Dordain
The Board of Trustees, in its meeting of 7th June 2017, unanimously decided to confer the CEAS Award 2018 to Mr Jean-Jacques Dordain.
Through his exceptional leadership of the European Space Agency and his technical, diplomatic and commercial skills, Jean Jacques Dordain HonFRAeS has made an outstanding contribution to the European aerospace industry.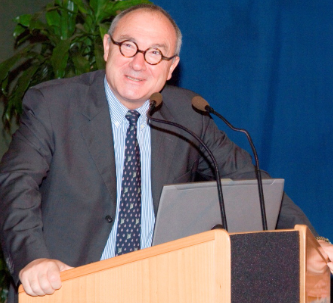 Statement of Justification
Mr Dordain has led Europe's space activities since 2003 as Director General of the European Space Agency (ESA). He is the first person to have had his appointment renewed not once but twice. He has demonstrated a mix of technical, managerial, political, diplomatic and commercial skills that elevate him above his contemporaries.
Under his direction, ESA has extended its previous highly successful space programmes with world class achievements, including Rosetta's rendezvous with a comet and the Sentinel Earth Observation satellites. He has set in place the governance, technical management and assurance regimes that have resulted in an unbroken string of >60 successful Ariane 5 launches since 2003.
In addition to keeping ESA ticking over smoothly, JJD has taken major initiatives, often against strong internal and external opposition, including:
• Initiated a series of joint missions with the private sector. Inmarsat, Avanti and Airbus Defence & Space are among those companies that have benefitted from this initiative.
• Opened a direct dialogue with industry replacing the relatively rigid client/supplier relationship of the past. He has also restructured ESA internally to give industry more of a voice inside ESA and ensure Europe's space industry strengthens its global competitiveness.
• Adopted the United Nations definition of "peaceful purposes" to open the door for ESA's involvement in Europe's military space activities including a framework agreement with the European Defence Agency.
• Enthusiastically led ESA's contribution to the management and implementation of the EUs growing list of space related R&D programmes. Under JJD's leadership ESA has also reacted to the EU's interest in space by encouraging EU Member States to join ESA. From 15 Member States in 2003 the number is now 22, with another 9 in the process of signing up. ESA's joint ventures with the USA, Canada, Russia and other countries have continued strongly despite the ups and downs of political relationships.
For the first time since its creation in the mid-1970s, ESA has been managed by a true rocket scientist and one with an interest in, and flair for, commercial, managerial, political and diplomatic initiatives. While strengthening its technical and scientific edge, JJD has pushed through difficult commercial, security and political initiatives often against strong vested interests. The result has given Europe a power house of a space agency with support from all sides of the political spectrum across Europe, and boasting a sensible and dynamic relationship with Member States, the EU and commercial organisations.
Curriculum Vitae Jean-Jacques Dordain
Mr Dordain graduated in engineering from the Ecole Centrale de Paris in 1969, and began his scientific career in 1970 in the field of propulsion and rocket boosters at the French National Office for Aerospace Studies and Research (ONERA). From 1976 to 1983, he was the Coordinator of Space Activities at ONERA until he was appointed Director of Fundamental Physics. During this period he was among the first five French astronaut candidates to be selected by CNES for the ESA Spacelab 1 programme.
Throughout his career Mr Dordain has taught in several prestigious positions. He was Professor of Fluid Mechanics at the Ecole Centrale de Paris, 1972–78, and also Professor of Rocket Propulsion at the Ecole Nationale Supérieure de l'Aéronautique et de l'Espace (sup'Aero) in Toulouse, 1972–82.
From 1977 to 1993, he was Associated Professor in Mechanical Engineering at the Ecole Polytechnique and, from 1975 to 1995, he was Professor of Fluid Mechanics at the Ecole Nationale Supérieure des Techniques Avancées (ENSTA). Since 2003, he has been lecturer at La Sapienza University in Rome and Honorary Professor at the University of Technology, Graz, Austria, and at the University of Liège, Belgium.
He joined ESA in 1986 as the Head of the newly set-up Department for the Promotion and Utilisation of the International Space Station. In 1993, he became Associate Director for Strategy Planning and International Policy, then in 1999 he took the position of Director of Strategy and Technical Assessment. In 2001, he became Director of Launchers.
In 1997, he was invited to be the Executive Secretary of the Evaluation Committee of the Japanese space agency NASDA. He has been ESA's Director General since July 2003.
Mr Dordain was awarded the honours of Officer of the French Légion d'Honneur and the Ordre National du Mérite. He was awarded the Order of Friendship by the Russian Federation, the title of Grand Officer in the Order of Merit of the Italian Republic and the Officer's Cross (Verdienstkreuz I. Klasse) in the Order of Merit of the Federal Republic of Germany and the title of Commander in the Order of Orange-Nassau of the Netherlands.
Mr Dordain is a Member of the French Académie des Technologies, an Associate Member of the Belgian Académie Royale des Sciences, des Lettres et des Beaux Arts. He is also a Member of the Air and Space Academy (France); the International Academy of Astronautics and the Association Aéronautique et Astronautique de France. He has honorary functions as Vice President of the International Astronautical Federation and Chancellor of the International Space University.
Pat Norris FRAeS, Space Specialist, CGI
Dr David Parker FRAeS, Chief Executive, UK Space Agenc