2016 Mr. Gordon McConnell
The Board unanimously decided to confer the CEAS Award 2016 to Mr Gordon McConnell.
Gordon McConnell, through his exceptional leadership in technical and engineering development and personal contribution to the success of Airbus, has made an outstanding contribution to European aerospace.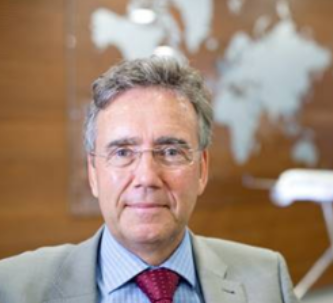 Statement of Justification
Dr McConnell, who has recently retired from the position of Senior Vice-President, Chief Engineer A350 XWB for Airbus, deserves the highest possible recognition by CEAS for an outstanding contribution to European aerospace and in particular for his exceptional technical, engineering development and programme leadership and his personal overall contribution to the success of Airbus – a truly European collaboration.

Described in 2014 in 'Debrett's 500' (which lists the UK's 500 most influential people), as having 'made countless noteworthy and influential contributions to the world of aeronautical engineering', Dr McConnell is exceptionally widely known and respected, particularly across the European aerospace engineering and technical community, for his leadership, inspiration and achievements as Chief Engineer A350XWB, in relation to the engineering development of the A350XWB programme and the A340-500 and A340-600 aircraft and as Technical Director BAe Regional Aircraft.

His contribution has been key among those critical to the success of the Airbus enterprise and thus fully merits the award of the CEAS Gold Medal.
Curriculum Vitae Gordon McConnell
On graduating from Paisley College of Technology in Scotland with an Honours Degree in Mechanical Engineering, Dr McConnell first joined Scottish Aviation Ltd at Prestwick in 1975 as a Stress Engineer and following the creation of British Aerospace, progressed through various roles in the Engineering Department to become, in 1988, Chief Engineer responsible for the Jetstream 41 development programme. In 1994, he was appointed Technical Director, British Aerospace Jetstream Aircraft, in charge of engineering for all the Jetstream turboprop family.

In 1996 Dr McConnell was appointed as Technical Director, British Aerospace Regional Aircraft and led the integration of the Prestwick and Woodford engineering teams to manage the Avro RJ and Jetstream aircraft programmes.

In 1997 he joined Airbus Industry in Toulouse as Chief Engineer, Twin Aisle Aircraft. He was responsible for directing the engineering development, continued support and safety of the A300, A310, A330 and A340 aircraft programmes. During this period, he managed the overall engineering development of the A340-500/600 ultra-long range aircraft programme which involved a major stretch, re-engining and rewinging of the basic A340. These aircraft were certified and put into service at the committed date and performance levels, which culminated in a successful entry to service in 2002.

Following his role in Toulouse, Dr McConnell returned to the UK to become Senior Vice President, Engineering at Airbus Filton in January 2004. In January 2007, he returned to Toulouse to lead the Engineering of the new Airbus A350XWB long-range aircraft family. This programme is widely acknowledged as being very complex due to the introduction of carbon fibre composites for the primary wing and fuselage structure and with further new technology features and challenging performance requirements. The acquired technology constitutes a quantum leap in aircraft design and Dr McConnell faced these challenges with good understanding and honesty, leading to acceptance of his decisions by all his peers and direct reports. Added to this, all the suppliers and partners of this programme respected his personal leadership throughout the world. The A350 received type certification from the European Aviation Safety Agency in September 2014 and certification from the FAA two months later. The aircraft entered service in January 2015.

Dr McConnell was awarded an Honorary Doctorate by University of West of Scotland in 2008.

Dr McConnell was described in 2014 in 'Debrett's 500' (which lists the UK's 500 most influential people), as having 'made countless noteworthy and influential contributions to the world of aeronautical engineering', In December 2014, he was awarded the Gold Medal of the Royal Aeronautical Society in recognition of his engineering leadership, particularly in the development of the A350 XWB family of aircraft.